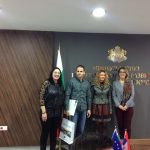 On November 17th 2016. Timok Youth Center has signed the contract with representatives of Interreg-IPA CBC Bulgaria–Serbia Programme and with this act officially started with realization of project Moving borders for volunteering.
Our aim is that throw this project create conditions for sustainable cooperation in cross-border region for increased youth participation in community life through social volunteering.
Project idea is establishing a network of volunteer centers across the whole border area and development of volunteering in social activities, established with a sustainable partnership between the TOC and the FYC.
Main project activities will be development of common methodology for social volunteering across border area, nomination of local organizations to become providers of volunteer services in local communities of cross border area, TOT – Training for volunteer centers leaders, equipment of volunteer centers on both sides with basic tools, training of volunteers, Volunteer exchange visit.
Project target group are youth workers from youth and working with youth NGOs and young people from 15 to 30 years old, potential volunteers, in whole Bulgarian – Serbian border region.
Project Moving borders for volunteering implements Timok Youth Center in partnership with Free Youth Center from Vidin, Bulgaria, and will be co-financed by EU through the Interreg-IPA CBC Bulgaria–Serbia Programme.
—
The project is co-funded by EU through the Interreg-IPA CBC Bulgaria–Serbia Programme.

This publication has been produced with the assistance of the European Union through the Interreg-IPA CBC Bulgaria-Serbia Programme, CCI No 2014TC16I5CB007. The contents of this publication are the sole responsibility of Timok Youth Center and can in no way be taken to reflect the views of the European Union or the Managing Authority of the Programme.