A public presentation and discussion of the Environmental Impact Assessment Study of the project "Reconstruction of the small hydroelectric power plant Sokolovica" on the river Timok the Great was held on Friday, August 25th 2017 in Zajecar.
The public insight notice The public insight notice was previously featured on the bulletin boards of the City Administration of Zajecar, in whose offices the inspector was inspected. The Study was also available in electronic format on the website of the Ministry.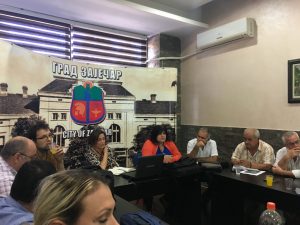 The meeting included the representatives of the Ministry of Environmental Protection, the investors of Electro-Economy of Serbia, the designers of Energy-Project/Hydro-Engineering, and the representatives of all the relevant services of the City Administration of Zajecar. The representatives of the Timok Youth Center were also present. Profession related comments regarding access roads, pollution, pollutants and potential polluters of the river Timok (i.e. wastewater, etc.) were heard at the meeting.
Hydro Power Plant (HPP) "Sokolovica" in the proximity of the village Cokonjar is the first hydropower plant built after the Second World War in 1948. Its reconstruction will increase the production of energy. The facility itself will be upgraded, more reliable and more functional. It is interesting that this HPP also has a fish trail that will remain functional after reconstruction.
In cooperation with the Environmental Protection Society "Old Mountain" we examined the study and want to congratulate on the quality of the document and use of relevant up-to-date data in its preparation. We also want to help improve it by discussion.
Our comment concerned a biological minimum, the term that is most often used when the proper flow is needed for the survival and development of biocenosis is not adequate in itself. The term itself refers to the minimum amount of water required for survival of species. To determine the minimum flow rate at 10% of the median annual average is like when you bring the patient to a state of clinical death and then try to bring it back to life. The minimum amount of flow, mathematically expressed, must be at least at 25% of the median annual values to ensure the minimum survival.
Read more in the document attached to this newsletter (.pdf, 3MB). We suggest you also take a look at the footage of ZaMedia and get acquainted with HPP Sokolovica.